Tinnitus, hyperacusis, and misophonia
There are things you can do about tinnitus and sound sensitivity issues!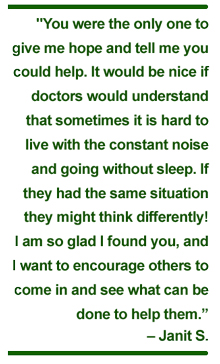 What is tinnitus? It is commonly referred to as "ringing in the ears."  It has been described by sufferers as hissing, roaring, whooshing, chirping, music, clicking and whistling.
The American National Standards Institute (ANSI, 1969) says it is "the sensation of sound without external stimulation."
Another definition is "The perception of a sound results exclusively from within the nervous system without any corresponding mechanical, vibratory activity within the cochlea, and not related to external stimulation of any kind." (Jastreboff, 1995, Tinnitus as Phantom Perception: theories and clinical implications, In Mechanisms of Tinnitus, ed. Vernon, J. & Moller, A.R., pp.73-94. Boston: Allyn & Bacon.)
A simple and effective definition proposed by Jastreboff states tinnitus is a phantom auditory perception. However you chose to define it, it is a significant problem for a quarter of the people who experience it.
— Click here to view an educational video! —
Epidemiological studies suggests approximately 50 million people in the United States have tinnitus and a quarter of those who suffer from tinnitus experience depression, loss of concentration, sleep problems and loss of enjoyment of life. Historically, these people suffering with tinnitus have been told they have to "learn to live with it." Not only is this untrue, but it enhances the feelings of hopelessness and fear by enhancing the belief that tinnitus is an incurable disease. Although there are many proposed treatments for tinnitus and numerous research studies into treatments for tinnitus, most are only about 40% effective in helping alleviate tinnitus.  However, there is one treatment which research has consistently demonstrated to be 80% effective in the alleviation of tinnitus.  The treatment is Tinnitus Retraining Therapy (TRT).
Tinnitus Retraining Therapy (TRT)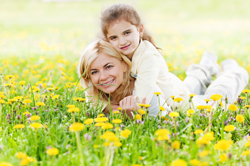 People who suffer from tinnitus and sound sensitivity issues have been told for many years there is nothing that can be done for their condition.  They are told they must learn to live with it. Tinnitus Retraining Therapy (TRT) is a technique used to alievate the suffering associated with tinnitus and sound sensitivity issues.  TRT involves counseling/education and sound therapy. TRT has been demonstrated to be 80% effective for habituation of reaction and perception of tinnitus.
Unfortunately, there are many claims on TV, on the internet, and in newspapers asserting to have a cure for tinnitus. Many more people have been duped by these claims. TRT is different. TRT and TRT practitioners do not make unsubstantiated assertions. It takes dedication, determination, patience and time. There is hope.
TRT consists of two components: counseling and sound therapy. During counseling sessions, you will be taught about the auditory system and other systems in the brain that are relevant to the source of tinnitus and to the origin of the suffering that sometimes accompanies it. The instruction demystifies tinnitus relegating it to a neutral signal with about as much importance as the refrigerator running. The second component, sound therapy, utilizes sounds to decrease the contrast between the tinnitus signal and the background neuronal activity. Because our senses work not on the absolute value of a stimulus but on the difference between the stimulus and background, enhancement of the level of sound coming to the ears results in a decrease in the tinnitus-related signals reaching the brain. Our goal is to facilitate habituation of both the tinnitus reaction and tinnitus perception.
Although TRT was developed for the tinnitus sufferer, it has been found to be effective for the treatment and management for all sound sensitivity disorders. Misophonia, hyperacusis and phonophobia can all be successfully treated with TRT.
KATS has recently added Neuromonics as a treatment device and treatment protocol option for people who suffer with tinnitus and sound sensitivity issues. In some cases alternative treatment option are necessary. Neuromonics has been proven to be between 80-90% effective in the treatment and management of tinnitus and sound sensitivity. During your evaluation, it will be determined which treatment is most appropriate option for you.
Listen to this story from WEKU-FM about Misophonia, featuring Dr. Rhoten (story also found here)"
Additional definitions
Sound sensitivity issues: Hyperacusis (a condition characterized by over-sensitivity to everyday sounds which are not bothersome to others) has been thought to be untreatable leading to a life of extreme isolation where the sufferer avoids any activity involving sound.  TRT can not only successfully treat tinnitus; it is highly effective for cases of sound sensitivity issues as well. Sound sensitivity issues sufferers can typically resume a life full of activity following the TRT treatment plan.
Misophonia: Dislike of environment sound(s), with or without tinnitus. Varies from 'fingernails scratching on blackboard' to dislike of all sounds around you.
Phonophobia: Fear of environmental sounds; fear that they may damage hearing or make other symptoms worse.
Jastreboff model – a new scientific analysis of tinnitus and sound sensitivity issues; explains the mechanisms of tinnitus and the connections in the brain which lead to distress of many people who suffer with tinnitus.
TRT (Tinnitus Retraining Therapy) – treatment based directly on the Jastreboff model. It uses a precise and individual combination of sound therapy and teaching/demystification/learning about tinnitus and sound sensitivity issues mechanisms, with directions about how to return to normal life without provoking symptoms.